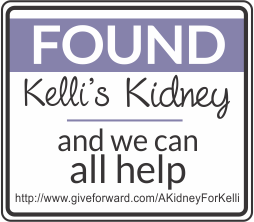 I'm linking arms with a sweet blogging friend, Sophie at BooMama, to let you all know some extremely exciting news about another very dear friend of ours, Kelli from Living in Grace.
I "met" Kelli online, not long after I began blogging nearly 4 1/2 years ago.  We have mutual friends in common plus a whole bunch of weird 6 degrees of separation type of coincidences to bond us.  Needless to say, she has become a precious friend, and a constant inspiration.
Kelli has been battling Stage 4 kidney failure for the last 4 years or so, and has been desperately searching for a live kidney donor.  While I was out of town, Fiddledaddy took a call from Kelli, telling us that THEY HAVE A MATCH.   At long last, an angel here on earth, named Sarah, has graciously been willing to be tested as a match, and is now prepared to donate a kidney to our Kelli-girl.
This is all happening very fast, as the surgery is scheduled for March.  But first, there is must testing and retesting that must be done in preparation for the transplant.  And along with that, there are a lot of out of pocket expenses that are not covered by insurance.
A fundraiser has been launched to help defray the cost associated with the pending surgery.  The goal is $20,000.  The time frame is the end of March.
I'm asking for 3 things specifically.
1.  Give (whatever amount) if you can.  If a bunch of us gave just $10, WOOHOO.  That could mean a substantial dent in the goal!
2.  Please help us get the word out about this fundraiser.  Feel free to grab the button!
3.  Most importantly, pray like mad for Kelli, Sarah, and both families.
My heart is overflowing with excitement for Kelli.  Sarah is the lifeline that we have all been praying for.  We've all watched Kelli navigate this diagnosis with a tremendous faith, and unbelievable grace and determination.
GiveForward has sponsored a wonderful fundraising page dedicated to Kelli.  You can get more information there, as well as Kelli's story, and how to donate.
And a great big thank you to Karla for the wonderful button at the top of this page and on my sidebar.